Our scared and shy dogs are now in the UK.
We wanted them to be safe and not be at risk from hunger and disease or injury from poor housing or fighting.
We still need to pay for their care and each dog needs £50 per month.
If you would like to sponsor a dog or part sponsor a dog,
please set up a monthly payment to -
Lloyds bank
Account number 29000862
Sort code 309897
and complete the form below to let us know which dog you would like to sponsor and the amount you will be paying monthly.
We will send you a certificate of sponsorship.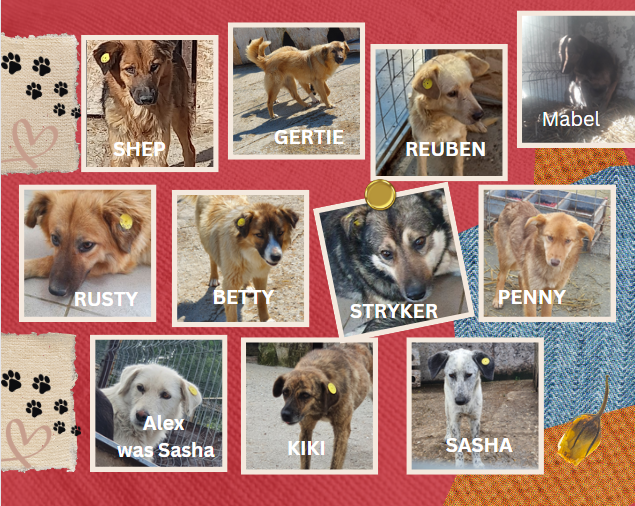 Donating towards travel costs
It now costs £215 to transport a dog from Romania to the UK. You can make a donation towards a dog's travel costs using the button below. You can choose from a pre-entered amount or add your own amount. You can also choose to make your donation on a monthly basis.
There's no need for a PayPal account either, you can use this button to pay using your debit card via PayPal.
If you want to make sure your donation is allocated to the dog of your choice, then you must add a note when you make your payment. Donations received without a reference will be allocated to the dog or dogs most in need. We would love to be able to contact our supporters to clarify what donations have been made towards, but sadly do not have the volunteer numbers to do so.
Any donations received for a particular dog above what is required will be allocated to the next dog or dogs most in need.
Donating towards preparation costs
It costs us £75 to prepare each dog for travelling to the UK. This includes -
neutering
vaccinations
flea, worm and tick treatment
testing for diseases
If you can help us with the cost of a dog's preparation for travel, please use the PayPal button below. Please add the ref Prep as a note.
You can set up a monthly donation to help us with all the work we undertake to improve the lives of the dogs in Romanian shelters using the buttons below. Monthly donations are used for a varity of things including -
food
medical treatment
transport costs
preparation costs
Having regular funds coming in means we can deal with urgent issues, such as medical emergencies or last minute dogs being transported, without having to raise funds first.
Find out how you can make a legacy donation towards our work and about making a donation in memory of a loved one with an entry on our memorials page.